Próximo Futuro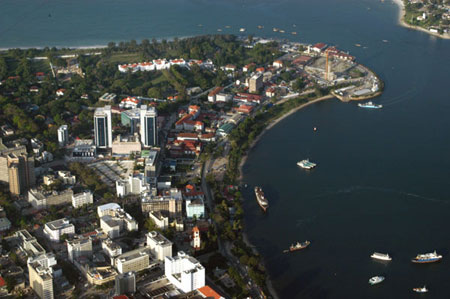 The city of Dar es Salaam, whose name means "Haven of Peace", has an enticing mix of sight seeing, shopping and entertainment. This largest city in Tanzania, also known as ''Bongo'' or ''Dar'' to the locals, is home to around 3 million people. The city reflects a fascinating blend of a rich historical past and a sophisticated, contemporary present.
Day or night, Dar es Salaam offers a range of exciting recreation opportunities, from casinos to bars and clubs, to local cinemas to bird watching.
History 
Dar es Salaam is an old city dating back as early as 1857.  The city has seen major changes dating from the influences of the Sultanates to the Germans and then the British. The city started as a fishing village in the mid 19th Century before being turned to a port and a trading center.
Dar es Salaam lost its official status as the capital city to Dodoma in 1974. It remains the center of permanent central government bureaucracy and continues to serve as the capital for the surrounding Dar es Salaam Region. The city holds immense political and economic power of the country.
Geography 
Dar es Salaam is situated in a massive natural harbour on the Eastern Indian Ocean, south of the island of Zanzibar. The city is a starting point to the northern and southern safari circuits.
The city stretches along unspoilt sandy beaches. Along the city area there is Coco Beach at Oyster Bay, popular and a good swimming beach mostly visited by the locals. On the northern coast, located about 25-30 km north of the city, lies Bahari Beach, Kunduchi Beach and Silversands, among others. On the south coast lies Ras Kutani Beach adjacent to a unique fresh water lagoon.
Culture 
Dar es Salaam exhibits a mix of all 26 different cultures that exist in Tanzania.
Language
Many people speak and understand English though Kiswahili is the main language spoken in Dar es Salaam. It is also common to hear other indigenous languages within the streets of the city, including KiChaga, KiNgoni and KiSukuma.
Food
The City of Dar es Salaam has experienced an increasing growth of international restaurants which has risen very rapidly over recent years. The city now offers a surprisingly rich and internationalised diversity of cuisine, ranging from traditional Tanzanian barbecue style options such as "Nyama Choma" (roasted meat), "Mishkaki" ( Shish Kabob - usually barbecued and served with salt and various hot peppers on the side), ''Mihogo ya kukaanga'' (Roasted Cassava), ''Ndizi na Nyama ya Ngo'mbe'' (Roasted plantain with Beef), and the long-established traditional Indian and Zanzibari cuisine, to options from all corners of the globe including, Chinese, Thai, Turkish, Portuguese, Italian, and Japanese food.
Clothing
The clothing in Dar es Salaam reflects the fashion trends dictated by a European or North American fashion designers. However, traditional clothing of Dar es Salaam has not died out. The traditional piece of cloth is locally known as ''Khanga''.The khanga is rectangular in shape. Khanga is made from pure cotton. The cloth is characterized by a distinct border all around the periphery. The khanga is brightly colored and printed in bold designs. Women in the city as well as other parts of the country use khangas to cover other clothes and to carry children on their backs. The traditional cloth is also used as a decorative wall hanging and as tablecloths. The khanga contains educational and informative messages.
Places to visit in Dar es Salaam
Askari Monument
Clock Tower
National Museum
Botanical Gardens
Village Museum
Nyumba ya Sanaa
Mkonde carvers and Tinga Tinga Artists
City Beaches
Kariakoo Market
From exotic beaches to colourful markets around the city, Dar es Salaam is a busy and lively place where it is sometimes hard to find some rest. At the same time, Dar es Salaam remains the haven of peace with so much to offer to both locals and visitors.
Irene Mvula